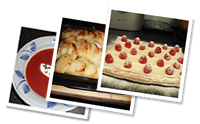 At The Yummy Cookery Club, we love new ideas. If you have a recipe that you'd like to share with us, please send it to:
kathryn @ theYummyCookeryClub.com
Recipes submitted must be your own original material and have been fully tested before submission. We will also test all recipes before publishing them. If you have photos (particularly of the middle stages of preparation), please send them in too – our research tells us that they are important to club members.
Unfortunately we are not able to publish all recipes that are sent to us, for example, you may submit a recipe similar to one we are planning to send out in a future issue.
We look forward to hearing from you!