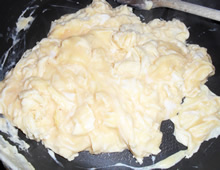 Serves 2 but easily multiplied up

This is the ultimate in both fast food and luxurious comfort food. It takes just 10 minutes and is cooked in our house most weekends.
Timings:
Start to finish: 10 mins
Ingredients:
A knob of butter equivalent to about 20g or ½ cm sliced off the end of a block of butter
For this recipe you will also need:
Method:
1. Get everything ready before you start: beat the eggs in the jug; put the butter in the frying pan and put the bread in the toaster
2. Heat the frying pan and melt the butter, moving it around the pan until it starts to foam. It's really important to not let it go brown / burn as this will give you a bitter taste. It should look like this: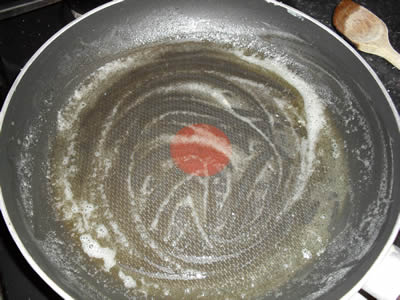 3. Now turn the heat down to medium-low and add the eggs. Keep them moving round the pan, using the corner part of your wooden spoon to scrape ribbons of cooked egg off the bottom of the pan into the liquid egg. Make sure you don't miss any areas of the pan. Before you think it is cooked, remove it from the heat. This is because it will continue to cook in the heat of the pan. It's also easy to cook it a little bit more if it needs it but if you overcook it, there's no going back. It should still have a little bit of liquid at this point and look like this: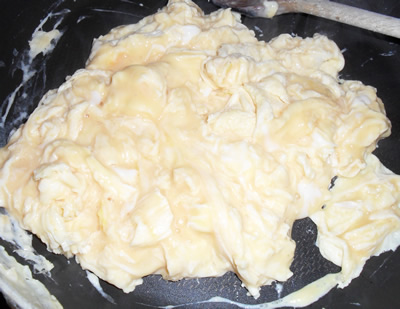 4. Set the pan aside and sort out your toasted granary bread. Spread tomato ketchup on top of the slice of bread and sprinkle the black pepper on top. Give the egg mix one final stir to break up any larger pieces of egg. It should be soft as you split it between the two slices of toast with the ketchup on. Top with the other two slices of toast and enjoy!
Notes:
Once you get proficient at making this, you can gradually cook it on a hotter heat (and therefore more quickly).
This dish is also delicious with toasted soda bread. My recipe for this will be sent later in the year.
You don't need to add any butter to the toast, as there's plenty in the eggs.
For a special breakfast, swap the ketchup for a slice of smoked salmon and sprinkle chopped chives on the top, rather than adding an extra slice of toast.
©Kathryn Stanley 2011