Please check your email within the next few minutes for an email from me, Kathryn Stanley, entitled "Please confirm your subscription".
It will look like this: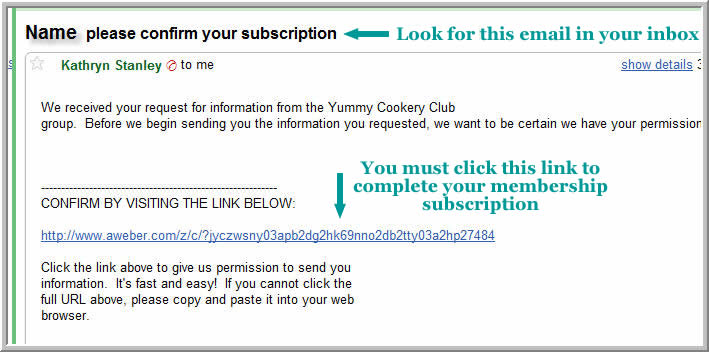 We need you to open the email and click the link as shown above before we will be able to send you out our free 3 Course Menu and our weekly recipes so please don't delay!
Occasionally this email can get caught in a spam filter so if you don't see it within the next few minutes, please check your junk box and be sure to add my email address – kathryn@theYummyCookeryClub.com – to your safe senders list

And meanwhile, thank you for your interest in the Yummy Cookery Club! Do have a good look around and browse through our catalogue of recipes and pages of culinary know-how.
You'll be sent a new recipe in the middle of each week – in time for you to get organised to make it over the weekend.  But remember, you will only receive this once you've verified your membership as detailed above.
If you like what you see here, please recommend us to your friends and family. We are also always pleased to publish your photos (of our food or you enjoying it!). Please send them to me at kathryn@TheYummyCookeryClub.com
Thanks again and we hope you really enjoy our club!

Kathryn Stanley – Creator of the Yummy Cookery Club