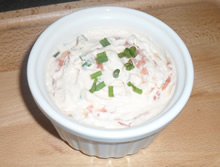 This recipe for smoked salmon pâté is equally delicious served at a posh dinner party or as a lunchtime treat on granary bread. It's very quick to make and far better than any shop bought versions.
Timings:
Start to finish: 20 mins maximum
Ingredients:
For this recipe you will also need:
Method:
1. Whizz the Mascarpone, the lemon juice and one of the packets of smoked salmon in your food processor / blender until completely smooth.
2. Take the 2nd pack of salmon and see what the pieces look like. If they are in quite small pieces, you might want to stir them into the pâté as they are. If they are bigger, I like to cut them into thin ribbons because it looks really pretty. To do this scrunch the salmon up into a sausage shape and hold it firm (with your non-cutting hand) a little way from the end of the sausage. Then, using a sharp knife, cut sections from it at about ¾ cm intervals. Be careful of your fingers and shuffle them back a little after each slice. Mix the ribbons and the pâté together in your mixing bowl.
3. Chop the chives quite finely (into about ½ cm lengths) and gently stir half of them into the pâté. If serving at a dinner party, divide the pâté into ramekins, sprinkle the remaining chives on top of each one. Now cover each one with clingfilm and chill in the fridge until you are ready. Serve them with crusty bread.
Notes:
This dish will keep for up to 48 hours in the fridge – depending on the use by date of the ingredients used.
If you have more of a budget, you could buy one standard (or best) packet of smoked salmon to cut into ribbons and still use trimmings for the salmon that gets blitzed in the blender.
You could also wrap little sausage shapes of the pâté in very thin whole slices of smoked salmon for a very delicate presentation
This recipe is not suitable for freezing or heating up
As the pâté contains raw fish, it's not suitable for very young children, pregnant ladies, the infirm or those with compromised immune systems.
©Kathryn Stanley 2011