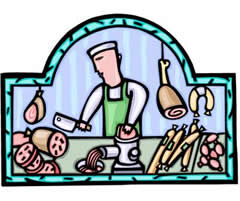 I'm a real fan of getting my meat from the butcher. It's a big part of my family's history as my Grandad was a butcher for his whole working life. He started doing the deliveries on his bike at 13, whilst his mum ran the shop, and finally retired 60 years later at 73!
I think that these days people perceive that butcher's shops are either more expensive or not as convenient as going to the supermarket. I beg to differ and have found neither of these to be the case. If you buy good quality meat which has been butchered locally, it will not only taste fantastic but it will also go further. Moreover, many butchers are going back to doing deliveries to fit in with their customers' busy lifestyles.
I can buy a free range chicken from my butcher for the price of a packet of 4 premium free range breasts at the supermarket. I can then get a roast, a paella and some thai chicken wraps out of the whole bird, before making stock or soup from the bits leftover. Their chicken breasts and bacon go a lot further too because they're not only bigger / thicker, they're also not pumped full of water, which just evaporates on cooking.
Another advantage of going to your local butcher is that the meat you buy is tailored to what you want and not how big the prepack is. This means there's either less wastage or overeating! I get fantastic advice because a properly trained butcher will not only show an interest in what you are buying but will be able to advise you on different cuts and cooking methods as well as what's good right now.  This helps you to buy at the right time for your freezer, so you can have cracking meat at a good price all year round.
A bit of banter is also an essential part of the experience and makes it all a bit more fun! It's very rare that I leave the shop without a smile on my face

If you're not in the habit of going to see your butcher to pick up your meat, can I urge you to pop in an to get to know them?
If you are in the habit of going, please email me your recommendations (at kathryn@theyummycookeryclub.com) for other members to try out!
Recommendations
Kathryn recommends: Littlewood's in Heaton Chapel, Stockport, Cheshire.
I love going to Littlewood's because you get fantastic service from start to finish and, as a customer,  you are always made to feel special. Andrew and the guys are so knowledgeable about their products and give great advice on different cuts of meat and how to cook it.
They often have samples of things they have made on the counter, so you can try them. They also have a great selection of secondary products (such as sauces, chutnies and spices) plus their home-made sausages, burgers and own recipe Slimming World items. It's a very customised, friendly service with all the guys at the top of their game. Finally, they offer a home delivery service (minimum order fee waived for pensioners) to save you time on your weekly shop 

http://www.littlewoodshc.co.uk/index.htm
Schtoppie recommends: Corry's in Bramhall, Stockport, Cheshire.
Corry's has just been awarded the coveted Q guild status. There are only 140 butchers in the country to have a quality assurance scheme inspected to this standard so they've joined an elite group. There's a big sign on the window now – 'You Are Now Shopping At One Of Britain's Best Butchers!'
I can't buy meat in the supermarket any more – you can really tell the difference in quality. I also have a bit of a chat and a laugh and joke with Neil and his team when I go in so it's nice to have that personal service too. They know all their regular customers by name and there's usually a bit of banter going on with all the customers.
I know I'm giving them a bit of a plug but I do agree in supporting the local butchers as you obviously do too and if you want to cook nice food then you have to start with good quality ingredients!
Tenniser recommends: D H Lees in High Crompton, Shaw, Oldham, Lancs.
I prefer to go to my local butcher rather than the supermarket because the choice, quality and price of the meat are better. As a regular customer, Darrel and his team know my needs and will provide me with what I require, even if it's not on display. He always has good deals on offer and in addition will advise on when the time is right to stock up my freezer.
Rosie Osborne recommends: Andrews in Hadleigh, Suffolk.
I can't recommend my butcher, Andrews, highly enough! The meat is always good, you can always ask for anything special, any advice needed is sound and for quality and taste if you're anywhere nearby, just try them out! I once bought a yummy looking leg of lamb from a well known supermarket, prepared and roasted it in exactly the same way as I always do, with slivers of garlic, rosemary and anchovies and was soooooooo disappointed in the result! As you say, too, chicken pieces in supermarkets tend to be plumped up with water and have little flavour. Not for me!! I always enjoy my visits to Andrews – you learn about meat, too, and the whole shopping experience is a pleasure. There are other very good local butchers in our country area too – we are spoilt for choice!
KathyB recommends: Unstone Hill Farm Shop, Chesterfield Rd, Dronfield  S18 4BP
I am sending you my butcher's details – he is between Sheffield and Chesterfield. His pork is second to none: he rears his own pigs near to the farm shop!!!!!!! The lamb and beef are excellent also.