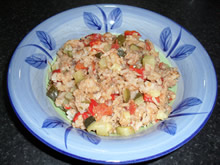 Serves 4
I love risotto but I have to say that I don't love standing next to the stove for half an hour stirring the stock in a spoonful at a time. My one-pot version of this classic cuts out all the fuss and I'm sure you'll love its creamy taste. It's a real family favourite in our house!
Timings:
Start to finish: 1 hour. This includes 25 mins cooking and a maximum of 35 mins prep.
Ingredients:
2 x 200g tins of tuna steak in spring water or vegetable oil
For this recipe you will also need:
Method:
1. Preheat the oven to 200˚C / GM6. Finely dice the onion, and fry it on a very low heat in the butter and oil until golden. This will take about 10 mins. In the meantime, do the following jobs:
Drain and rinse the peppers and dice into pieces about 1.5cm square
Dice the courgettes into pieces about 1cm square; take the ends off the asparagus (see note below) and chop each spear into 3 or 4 pieces
Weigh the risotto out into a bowl
Rinse the tuna in a little cold water in the can, then drain each can well
2. When the onion is golden, add the garlic purée, peppers, courgettes and asparagus and continue to cook on a low heat for 5 mins. Then add the risotto and stir really well, making sure that you coat the individual grains of rice in the buttery vegetable mix.
3. Add the stock, tuna, oregano and chopped tomatoes. Stir well and turn up the heat to bring to it all to the boil. It should look like this now: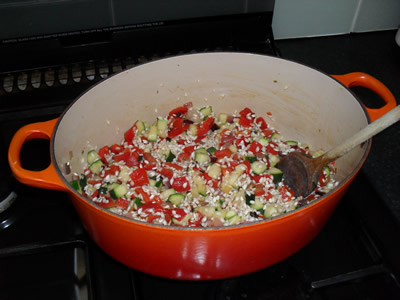 4. Now put the lid on (a tight fitting piece of foil will do if your dish has no lid) and transfer it to the oven. Bake for 25 minutes, giving it a good stir halfway through as the rice tends to sink to the bottom and then serve immediately.
Notes:
To take the ends off the asparagus, put your thumb and forefinger from each hand on the bottom of the stalk. It will naturally snap in one place, as this is the part that is still good to eat. Once you have done this with one spear, you can either snap the rest by hand, or line them up with the first one and chop their bottoms off in the same place.
This dish will keep for 48 hours in the fridge, covered with clingfilm. It can also be frozen but must be thoroughly defrosted before reheating.
It's also great in lunchboxes as leftovers. Just reheat it in the microwave. To do this, add a tbsp boiled water from the kettle to your Tupperware box. Put the lid back on and shake gently to loosen up the rice. Remove the lid and place on top of box and heat on full power for about 3-4 mins, depending on the power of your microwave, stirring partway through cooking. When reheating food, please make sure all dishes have been heated to piping hot and then cooled slightly before consuming.
You can reheat the dish the same way at home. Just put the risotto in a bowl covered with a square of kitchen roll.
Babies and toddlers love the bright colours and soft (but not mushy) textures in this dish. It's ideal for whizzing up to either a smooth purée or one with lumps as they start to explore new foods. It can be frozen in individual  portions, as long as it has been cooled quickly and it is heated to piping hot and then left to cool to your child's eating temperature.
Don't be tempted to use tuna in brine. Even if you rinse it, the dish will turn out a bit too salty.
You can change the combinations of vegetables you use according to what is available or your family's particular favourites.
©Kathryn Stanley 2011