Hi, my name is Kathryn Stanley and I'm the creator of The Yummy Cookery Club.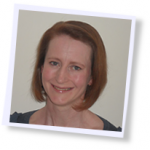 So, a little information about me… I live in the North West of England with my husband Peter and our 2 year old daughter. I have a background in teaching languages but have always been passionate about food and cooking. One of my earliest kitchen memories is standing on a chair as a toddler to help my Granny make jam tarts. I love creating new recipes and the smiles that sharing food with friends and family brings.
You know, what it's like. You buy a new cookbook, flick through the pages, look at the pictures, only to make just a couple of dishes from it. Can you tell I'm a cookbook junkie? Or you go online to find either a recipe or the answer to a cooking query and half an hour later you're still looking…The idea behind The Yummy Cookery Club is that I make it easy for you by emailing you one of my recipes once a fortnight. Each recipe will be easy to make but impressive and totally delicious. You'll then be able to log on and leave your comments and / or send in your photos.
This is a club for real people where everyone is welcome, from those just starting out in the kitchen to the most accomplished cooks. Many of the friends I've given advice to over the years have been guys who wanted to learn to cook. I've taught them how to make something yummy with a bit of a wow factor to impress their partners – so men are most definitely welcome here. I also know of at least one girl who will be forwarding the recipes to her man, just to help him earn a few Brownie points!
My aim is to make cooking fun and uncomplicated, using speedy shortcuts I have perfected over my years of pouring over a hot stove…so you don't have to! Life is definitely better when it's simple so I also want to share recipes that will be a hit with your whole family, including any little ones.
Sometimes you want to eat the kind of healthy food that you can just feel is doing you good. At other times only a blowout on something special will do. At the Yummy Cookery Club I'll cover both ends of the spectrum and lots in-between. I love all types of cuisine from fresh and modern dishes to more traditional recipes that have been passed down the generations. Whether you need your recipes to be fast, budget, simple or just plain tasty, there'll be something here for you.
So what's great about The Yummy Cookery Club?
It's totally free and without any obligation
You'll be sent links to my delicious and easy recipes
I have a large repertoire of my own recipes (complete with photos) ready to share with you
You'll learn new cooking techniques, designed to make life easy
As members will be able to make the dishes on the same week, I'll be looking forward to you posting your comments, photos and even videos.
The dishes are great for both cooking regularly as part of your stock of everyday recipes but also for fuss-free entertaining
As a member, you'll have unlimited access to all areas of the club, including the back-catalogue of recipes
I'm also looking forward to answering any kitchen queries in the 'In a Pickle?' section
Many of the dishes from different weeks are designed to fit together to make easy 3 course menus, so dinner parties with friends will be a breeze!
Sign up here to see the first batch of recipes.